Expectations
We all have expectations. We expect certain things to happen at certain times. We expect people, especially our family members, to act in certain ways and not to act in other ways. We expect certain types of weather at different times of the year. We expect timely service at restaurants, stores, banks or other businesses. We expect our cars to start when we turn the key on. We expect certain events
to last a certain amount of time like 3 hours for a football games or one hour for a church service. Expectations aren't good or bad in themselves.
We need to have certain expectations of our children and spouses. We need to have certain expectations of our friends and acquaintances. We need to have certain expectations of our church members. However, we must make sure our expectations are realistic and reasonable. When they are unrealistic or unreasonable, they set us up for disappointment, hurt or even anger.  One secret to contentment is to lower or modify our expectations of others. We still want to expect the best of our children. We still want to maintain standards of Christian conduct. We still want a certain level of civility as we deal with one another. We just need to first
examine our expectations to see if they are realistic and reasonable and what we would expect of ourselves in a similar situation.
Secondly, we need to apply grace to our expectations.  We do this by remembering that we are all a work in progress and not perfect. We do this by forgiving shortcomings and maybe examining how we contribute.  We also should remember that we don't always meet
other people expectations either.
A good example of this is in how God deals with us.  He has expectations for us too. It's called the 10 commandants. It's that we would love him completely and that we would love others as ourselves. We all fall short of these expectations daily and often. Yet, God still
loves us and forgives us. He even sacrificed his son for us. He still works in our lives and maintains a relationship with us. He even works through us to show his love and forgiveness to others. He still has expectations for us out of love; he wants the best for us.
In the end, though, it's his love for us that defines his relationship with us as his children and that will never change. May his love flow from us to those around us.
–To God be the glory–
Pastor Tim Behnke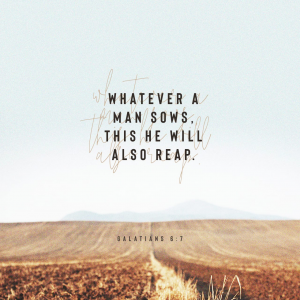 "Do not be deceived: God is not mocked, for whatever one sows, that will he also reap. For the one who sows to his own flesh will from the flesh reap corruption, but the one who sows to the Spirit will from the Spirit reap eternal life."
Galatians 6:7-8 ESV
https://www.bible.com/59/gal.6.7-8.esv